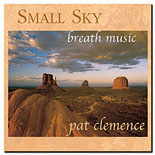 Composer's Notes...
SMALL SKY, BREATH MUSIC was inspired by the practice of tai chi breathing, also know as "chi kung" or "qi gong". The music is designed to imitate the natural flow of breath along the body's hidden energy pathways, and to guide the listener into a more expansive breath awareness. It is my belief that this music is well-suited to accompany any form of conscious breathing, including meditation, yoga, reiki or massage.
The form and concept for SMALL SKY, BREATH MUSIC arose spontaneously for me, as a kind of gift of music from the subconscious creative mind. (This sort of experience isn't uncommon for a composer. The trick is grasping the moment, and giving the music form!)
One evening while practicing a tai chi meditational breathing exercise known as "Small Sky", I had what might best be termed an "aural imaginative experience". What I "heard" that night - or "imagined" if you prefer - was the outline of a melodic line ascending to the intake of my breath, and descending to the out take. Five beats ascending, five beats descending. The tempo corresponded to the rhythm of my breath that night.
Starting with this simple bit of musical material, I proceeded to write a series of themes and variations based on an overlying 24 bar melody. You will hear the cadence of the breath intake and out take, first announced with 2 bells, then reinforced with low tones. After about one minute you will hear the original melodic theme that I heard that night, which continues through various keys and variations throughout this music.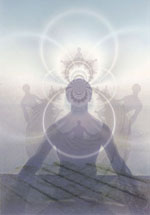 I began to score the resulting music for an acoustic and electronic chamber ensemble. After creating a preliminary musical background, I began with Senia Trubashnik, former principal oboist with the Moscow Philharmonic, and a master of musical breathing techniques. Next came my long standing friend and musical collaborator, Ron Korb with his silver flute. Finally, the majestic and serene sound of Andras Weber's cello was added to anchor my ensemble.
Further composition, arranging and editing took place over the course of the next year and a half, until today SMALL SKY, BREATH MUSIC is ready to share with the world.
What is Small Sky, Breath Music?
This album is primarily a listening experience that I hope can be enjoyed in its most basic form, as pure music.
After that, and in order to experience this as "breath music", you may wish to synchronize your breath to the rhythm of the musical cadence. By following the opening minute or two, you will quickly be able to identify the timing. The music is very slow, encouraging a deep feeling of relaxation, and a melting away of physical tension.
Be gentle about this, do not hold your breath, or force yourself to breath in any unnatural way. You may find yourself breathing faster or slower than the music, and that is perfectly alright. You may drop in and out of time with the music. Let the series of themes and variations guide you, and by all means choose your own favorite parts to work with! - Pat Clemence